Sparkling clean windows can be tough to achieve, regular consumer-grade cleaners can leave streaks and marks. After enough sun exposure, paint and tape bake on to your windows and become pretty tough to remove. So how exactly can you keep the windows of your storefront or office clean? Customers definitely take note when your windows are dirty. Our specialty equipment and process mean you spend less time obsessing over your windows and more time growing your business.
WATER FED POLES
We use specialty water fed poles, some are even custom built by us to fit our routine. These poles can extend up to 45 feet and can reach multiple stories. The soft but effective brushes, combined with a special kind of filtered water work in harmony to deliver spotless, streak-free window glass, whether you have a shop on main street or a 3 story office building. We use water fed poles which makes our process more affordable and efficient because means that no ladders, cranes, or expensive booms are required.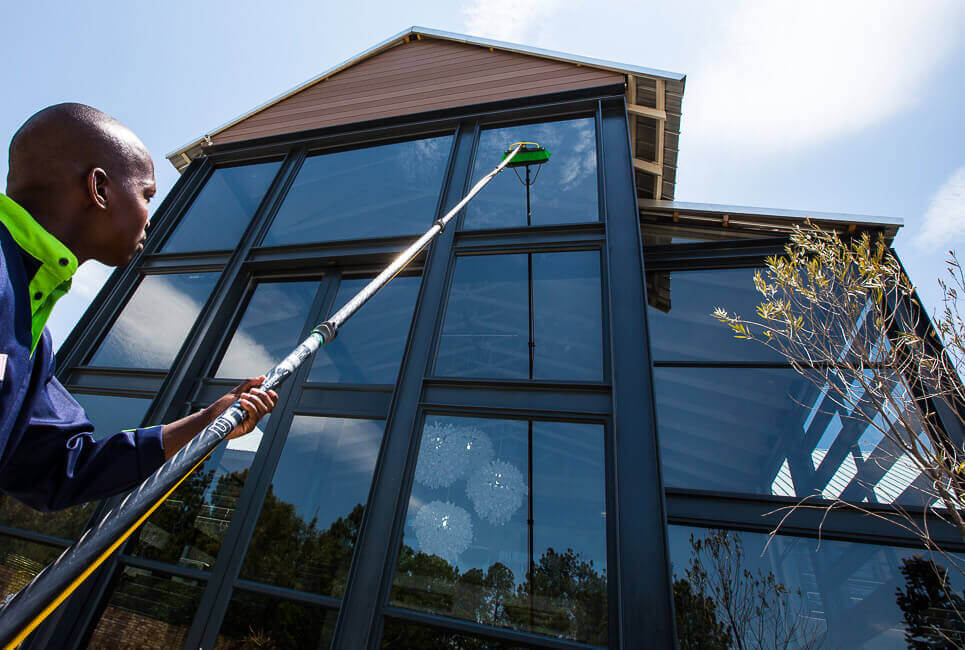 DEIONIZED WATER
As mentioned previously, we don't just use any type of water. We use deionized water. Our filtration system removes minerals and fluoride, resulting in pure, uncontaminated water which means when it dries, there's no spots or streaks.
INTERIORS
As effective as our water fed poles are, they can't be used on the interior sides. Instead, for interior window glass, we make use of microfiber cloths, proprietary glass cleaner, as well as applicators and ladders if required. We care just as much about the interior glass as we do about the exterior glass.
THE RESULT
When we are finished, you will gaze out your window, it'll be crystal clear, with not a spot to be seen. All thanks to our advanced, efficient window cleaning process. Take a look out your nearest window, is it dirty? If it is, give PRO-LINE a call, we'd be happy to provide a free no-obligation estimate. (530) 642-8096.