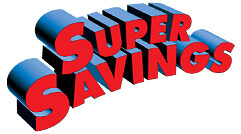 NO HIDDEN FEES! NO GIMMICKS!
Our coupons offer YOU big savings on our services
Savings is always a top priority for consumers, which is why we offer a variety of coupons to help make quality carpet, upholstery and tile cleaning that much better. Below is an assortment of coupons for our most sought after services. Simply print or show the below coupon to one of our technicians and save on your service. It's that simple! Keep an eye out for our ads in local papers—such as the windfall—they might have a limited time offer that could save you even more money! We recommend that you sign up for our mailing list for opportunities to save even more money.

Click a coupon to visit the printable version.